Bitcoin Pro News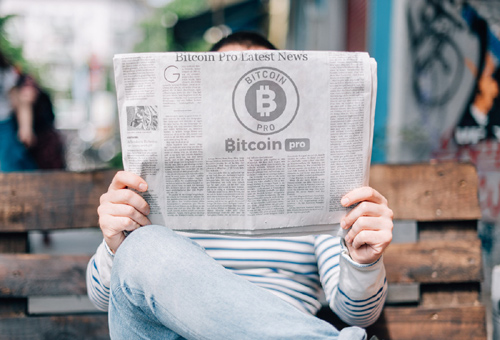 Latest Updates For Bitcoin Pro - BTCP
03-11-2022 - Bitcoin Pro is now listed on CoinMarketCap
02-22-2022 - Do you really believe Bitcoin has only 21 million coins of total supply? Think again.

17 hours ago Bitcoin Pro burned 192,478 coins to have exactly 2.1 million coins in total! When you strengthen your network by adding coins to more blockchains you need to balance it by decreasing coins in others, that's what transparency is. The top coins you know just add more networks with countless coins, without doing any balance and they call it circulating supply, making their total supply useless, even Bitcoin lost control and only god knows how many coins offered in how many blockchains, HINT: more than 21 million... We think and act different.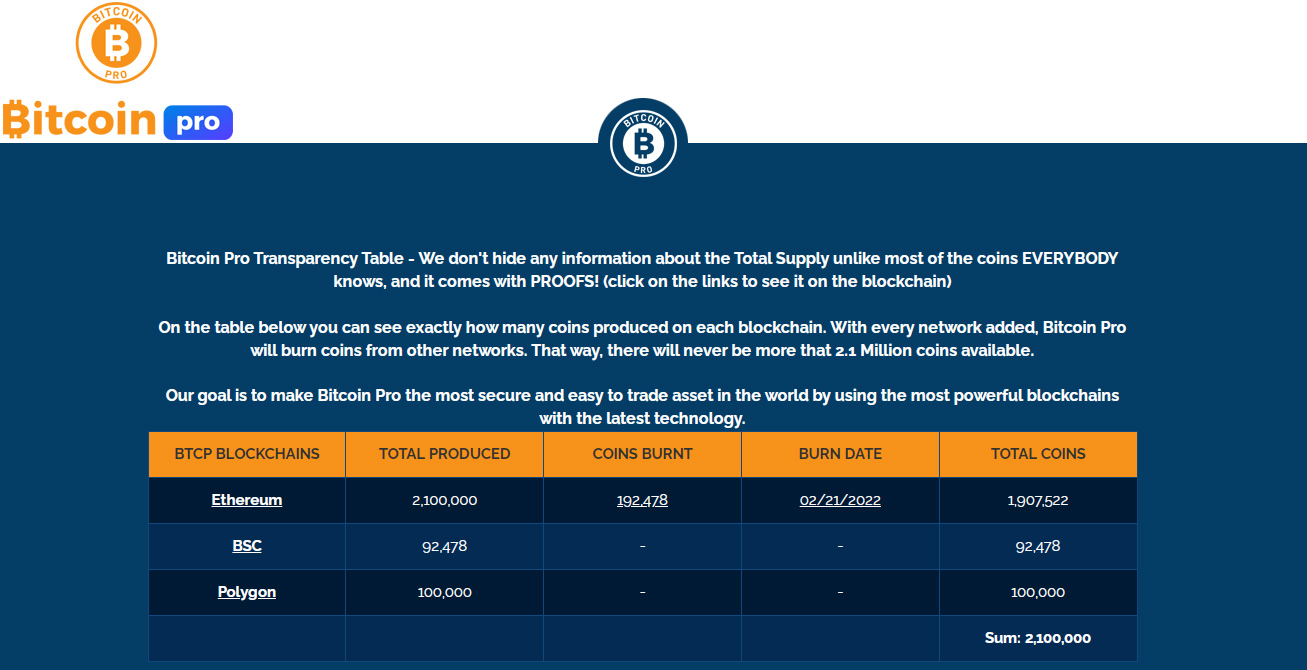 02-21-2022 - Bitcoin Pro is now available on Polygon Network! Contract address: https://polygonscan.com/token/0x939dbA50a98A0a4dA1BE61FF0C32Fd51c8c81627 and trade Bitcoin Pro with very low fees using QuickSwap DEX.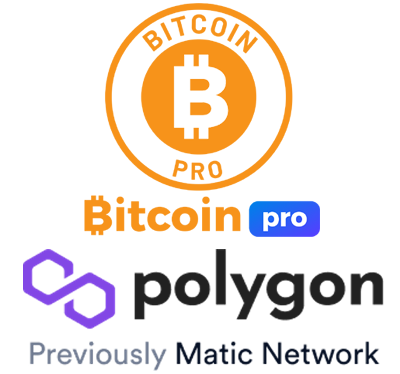 01-25-2022 - A plan to make Bitcoin Pro bulletproof asset has begun. Bitcoin Pro will grow to all the biggest and latest technology networks like Solana, Polygon, Fantom, Luna and more. While keeping 2.1 Million coins max supply (Burn), Making Bitcoin Pro the most resilient and most secure asset among all coins.
08-19-2021 - Bitcoin Pro Wrapped is now live on BEP-20 network! due to high trading fees of Ethereum network, you have the option to buy / trade Bitcoin Pro with super low fees through BNB network and use exchanges like PancakeSwap to buy. Contract Address: 0x5de820707adc87b4581f8e7914a65341e68216db , View the contract on BscScan or the Trading Stats.

08-13-2021 - You can now have a Live Chat with a human agent and have more confidence when investing in Bitcoin Pro.
01-31-2021 - Bitcoin Pro in corporation with Resfinex exchange is proud to announce trading competition with total prizes of 35.5 BTCP for the winners !
More details in this LINK
12-10-2020 - Bitcoin Pro is now listed in Uniswap Exchange!
Uniswap is a true decentralized exchange with liquidity of about 2.8 Billion $ and daily trading volume of about 200 million $.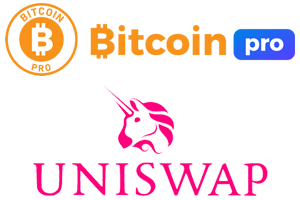 9-25-2020 - Amazing 10% per month OFFER:
Any account with 100 Bitcoin Pro or more will be eligible for 10% increase directly to the account each month, for 6 months! This is made to grow the mass adoption of Bitcoin Pro even more.

Example: If you have 100 Bitcoin Pro, You'll receive 10 Bitcoin Pro in the 1st of the following month, in the second month you'll receive another 10% for your 110 Bitcoin Pro coins and so on.

This offer is limited for registrations until October 31 - 2020. Early adopters until September 30 - 2020 will receive 10% each month for 7 months instead of 6!

* Eligible accounts must inform us by email to contact@bitcoinpro.money that they wish to participate and provide their wallet address for tracking. If you transfer your coins away from the wallet within the 6 months period you won't receive the 10% in the following month. Buy Bitcoin Pro and take advantage with this offer Here.
8-12-2020 - Bitcoin Pro continues to grow and due to the overwhelming demand it's now available in 8 languages! Choose your language Here

6-29-2020 -
Added Bitcoin Pro to their index.

3-5-2020 - Bitcoin Pro is now listed on CoinCost
2-23-2020 - After a long development and research, We are in the final stages of testing the next big thing before exposing it to the public.
Bitcoin Pro team doesn't believe in RoadMaps, They are set with dates and goals that... never happen!
Instead, only real achievements and short term targets will be published. We actually don't care if that's acceptable in the industry or not, we are full with passion for Bitcoin Pro and that's the only thing that MATTERS. Maybe we think DIFFERENT.
2-9-2020 - More amazing news for Bitcoin Pro. It is now listed on ResFinex Exchange with 2 pairs! Trade here: BTCP/USDT and BTCP/ETH
2-5-2020 - Yesterday Bitcoin Pro skyrocket to all time high price of 226.47$! Just the beginning?
1-22-2020 - BitCratic lists Bitcoin Pro - Trading starts now!


Make sure to visit here to stay updated!



If you have any questions please feel free to ask Here. We answer 24/7